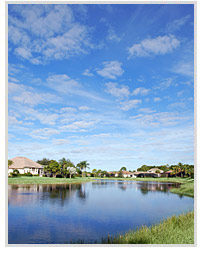 Coral Springs is a master planned community in Broward County, approximately 20 miles northwest of Fort Lauderdale. With its population of approximately 127,000, it is the state's 11th largest city and is part of the South Florida metropolitan area. It was ranked as the 27th best city in which to live in 2006 by Money Magazine
Prior to its incorporation in July 1963, much of the area was marshy land, prone to flooding. After the development of the Central and South Florida Flood Control District (now the South Florida Water Management District), canals and levees drained much of the land. It was first used for bean farming and later for raising cattle. The post World War II land boom attracted developers and a master plan was approved for the new city of eventually 50,000 residents. It grew rapidly over the 1970s to 1990s, adding 35,000 people each decade.
Today, Coral Springs retains its distinctive atmosphere partly due to the stringent codes designed to maintain its esthetic appeal. It established strict regulations and placed restrictions on exterior paint colors, roofing materials, RV and boat storage, and landscaping specifications. These strictly enforced codes saw the first McDonald's without its distinctive golden arches, evidence of the restriction on commercial signs.
Real estate values in the city are significantly higher than the county as a whole. The city's government has earned praised for sound fiscal management and its bonds consistently earn high ratings. It has received the Florida Sterling Award twice for excellence in administration. Coral Springs has a vibrant economy with above average wealth and consistently low unemployment. It was named the 10th safest city in the US in 2007 and also became the first state or local government in the nation to receive the Malcolm Baldridge National Quality Award.
Coral Springs' downtown area is in the midst of an extensive redevelopment effort with a planned open-air shopping and entertainment center to revitalize its core. When completed, the downtown area will offer retail and office facilities, a new government center with over 3 million square feet of floor space, in addition to a new hotel and approximately 1000 residential units.
It was identified as one of the 100 best communities for kids by America's Promise Alliance in 2007. There are over 50 municipal parks, including a skate park as well as a water park, plus 4 conservation areas. The Coral Springs Center for the Arts presents popular shows and a yearly Broadway series. There is a city history museum as well as the Coral Springs Museum of Art which maintains exhibits and provides a variety of community art classes and programs.