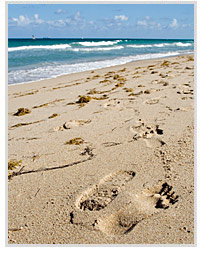 Lighthouse Point is a small town that has no concerns about future growth and is content to stay as it is – a small town. Once an area of mangrove swamps and fertile farmland, the first home was built in 1947. In 1951, the initial subdivision, called Hillsboro Isles, saw the final nails pounded on its first house and people began to come here. The population grew to 500 and on June 13, 1956, citizens voted to incorporate and the town of Lighthouse Point came into being. It was named after the Hillsboro Lighthouse which has been keeping guard over the Hillsboro Inlet since 1906.
Today, the town's population is around 11,000 people who enjoy a leisurely life style in a small town – with big city amenities. There is a well-staffed police department, a fire department, a city library, and competent city government. Residents elect a Mayor and City Commissioners who supervise, direct, and coordinate the daily activities and prepare an annual city budget. To avoid any worries of being absorbed by another community, Lighthouse Point is preserving its city certification.
The majority of the town's residents are well educated and many are employed in management and professional occupations. The unemployment rate is 2.6% as compared to the national average of 6.5% in November 2008. Lighthouse Point has very few remaining city lots and, as it is tucked in among many surrounding communities, it cannot expand. More than 95% of the land has been developed and there are about 13 miles of sidewalks and bike paths.
The attractive neighborhoods are quiet and well maintained. Shady streets are tree lined and bright with flowers. Many roads and drives have been resurfaced and lush vegetation lines the medians. Areas that have been plagued by flooding during rain storms have had larger storm water lines installed.
There are over 20 acres dedicated to parks, one of which, DeGroff Park, was an Emerald Award Winner for environmental conservation. The original property was transformed by the planting of over 150 trees including the Gumbo Limbo, varieties of oak trees and several different kinds of palms. There are 2 tennis courts at Dan Witt Park, as well as a volleyball court, 2 baseball fields, 2 football/soccer fields, and 2 basketball courts. The Frank McDonough Park is equally well equipped for a variety of recreational activities; it has 9 tennis courts with a pro shop and 4 racquet ball courts. The remainder of the city parks offer a variety of activities and but also provide spots for relaxation or quiet strolls under the trees.