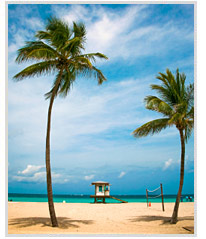 Hollywood is a mature city of approximately 142,000 people that has little room left for expansion. After explosive growth in the late 1970s, the city instituted a growth management program which revised land use controls in an effort to manage the quantity and quality of development. The city had been unable to keep up with its barely controllable population growth and coordinate public improvement and the addition of necessary services. Today, a Mayor and City Commission manage the city and have plans for improving its infrastructure and reducing its impact on the environment by 'Going Green'. A citizens' advisory group has been established to promote and encourage the best environmental practices for Hollywood through a variety of improvements in waste management, recycling, water conservation, xeriscaping, and other educational programs.
Hollywood has come a long way from its early beginnings as an undeveloped tract of marshy land with its pine forests choked with palmetto plants and tangled undergrowth.
It was the dream of a far seeing visionary, Joseph Young, who imagined a wide boulevard extending westward from the ocean to the edge of the Everglades. He foresaw man-made lakes draining water from the swamps into the Intracoastal Waterway. This former Californian envisioned throngs coming to live in his "Dream City", which he christened 'Hollywood'.
Founded in 1925, a year later it was home to approximately 18,000 residents, 9 hotels, 252 business buildings, and 36 apartment buildings. The city acquired 6 ½ miles of oceanfront property on the Atlantic with a value of $20 million, at that time. The phenomenal growth continued and the Hollywood Broadwalk, a unique promenade patterned after Atlantic City's famed boardwalk, was constructed along the shoreline. Elaborate beach hotels welcomed businessmen and industrialists as well as celebrities who made the area home during cold months in the northern US.
Another of Young's dreams of dredging a deep water seaport from a shallow lake north of Hollywood to the ocean so ships could dock became a reality in the present day Port Everglades, one of the busiest seaports in Florida. Rapid growth continued after World War II, reaching 107,000 by 1970. Today, it is the 10th largest city in Florida.
The October 1997 issue of Money Magazine predicted that Hollywood's demographics represent what the United States will look like in the year 2022. It says the blend of old and young, racial diversity, and cultural variety will become the face of the future America. Hollywood is located in southeastern Broward County and is south of Fort Lauderdale and includes 5 to 6 miles of Atlantic Ocean beach. The Fort Lauderdale – Hollywood International Airport abuts the city and Miami International Airport is less than 25 miles south. Throngs of tourists disembark daily at Port Everglades, the second busiest cruise port in the world, which is partially within Hollywood's municipal boundaries.